Heating elements and towel dryers
Heating elements with carbon nanotechnology that emit infrared heat, ie instead of heating the air in the room, an infrared panel warms up the walls, objects and persons in the room. The objects can, in turn, store and emit heat so that the heat is evenly distributed in the room.

This has different health benefits. When heating with indoor heating elements, the humidity is kept constant, which is particularly good for rheumatologists. Even asthmatics and allergies can breathe out: With infrared heat, there's hardly any dust swirling because the air circulation effect is significantly less than usual heating systems.

The elements are built within the EU and the nanocarbon film inside is manufactured in Korea, which is world leader in this technology.
The heating elements improve the climate in the room, as the infrared radiation warms the walls directly instead of taking the road through the air. The walls store the heat and remain dry and free from mold attacks. A pleasant side effect is that the heat does not disappear during weathering.

But the infra-red has even more positive effects on the body: it stimulates the blood circulation of the skin and strengthens the immune system. In addition, the infrared radiation stimulates metabolism and has a impact-limiting effect. Infra-heating is probably the most comfortable heating method.
The elements / towel dryers are made of tempered glass and come with a towel rail, which is optional to use. This way they can be used both in the bathroom and in other places within your home

In addition, they are the most efficient on the market. Between 110 - 330W depending on size. Corresponding conventional elements have a consumption of 800 - 1200 W. The infrared film inside is heated to about 69 degrees, so there is no risk of burns.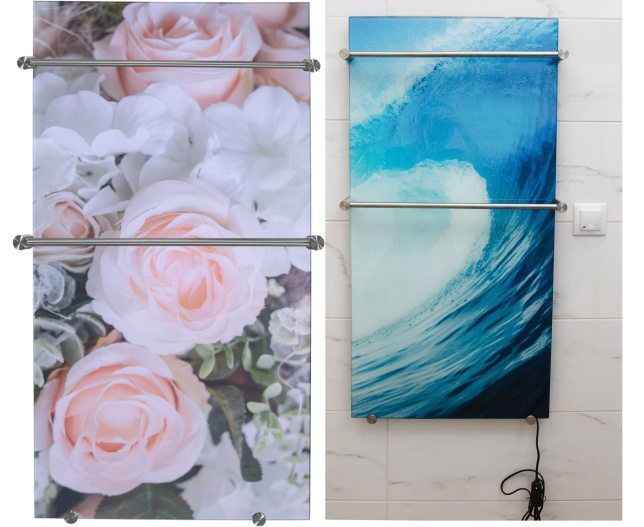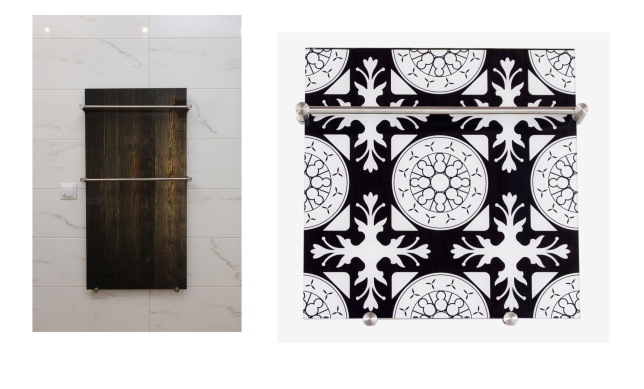 We offer these items in three different price ranges: